Frequently asked questions
Please check the relevant contribution. You can also click "Ctrl+F" and type in the key word. You will then receive a suggestion with relevant answers.
If your question cannot be answered here, you can contact us.
General information
Application procedure
Documents
Schengen Area
The Schengen Area is composed of 26 countries.
- At present, 22 European Union Member States enforce the Schengen Convention (Austria, Belgium, Czech Republic, Denmark, Estonia, Finland, France, Germany, Hungary, Italy, Greece, Latvia, Lithuania, Luxembourg, Malta, Netherlands, Poland, Portugal, Slovakia, Slovenia, Spain and Sweden).
- Switzerland, Norway, Liechtenstein and Iceland integrally enforce the Schengen Convention, but are not members of the European Union.
The six other European Union Member States still outside the Schengen Area are the UK, Ireland, Cyprus, Bulgaria, Romania and Croatia.
The EU Member State, Cyprus, is not yet a fully-fledged member of the Schengen Area. Border controls between Cyprus and the current members of the Schengen Area are to be maintained until the EU Council decides that the conditions for abolishing internal border controls have been met. However, Cyprus considers the Schengen visa, as well as residence permits from other EU Member States, as equivalent to its national visa for the purpose of a transit that does not exceed 5 days.
The Principalities of Monaco, Andorra, San Marino and Holy See (Vatican City State) allow entry to their territories without any formality to Schengen visa holders.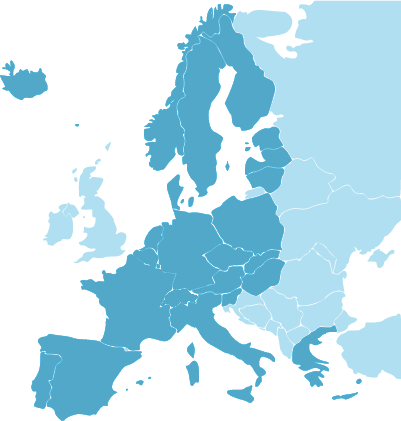 European Union
The following is the list of countries that are currently members of the European Union:
| | | | |
| --- | --- | --- | --- |
| Austria | Estonia | Italy | Portugal |
| Belgium | Finland | Latvia | Romania |
| Bulgaria | France | Lithuania | Slovakia |
| Croatia | Germany | Luxembourg | Slovenia |
| Cyprus | Greece | Malta | Spain |
| Czech Republic | Hungary | Netherlands | Sweden |
| Denmark | Ireland | Poland | United Kingdom |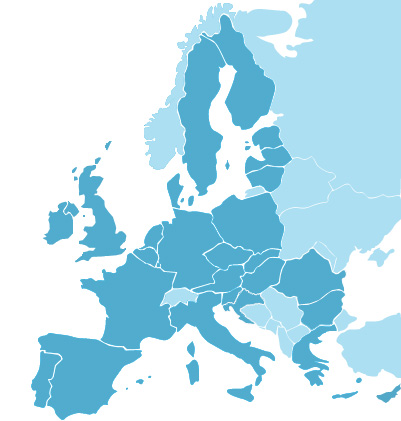 Do I need a Schengen visa?
Moroccan passport holders
All Moroccan nationals must have a valid visa to enter the Schengen Area, regardless of the duration of their stay and no matter what kind of travel document they have, except if they have a valid residence permit which enables them to stay in the Schengen Area.
Nationals of other countries
Citizens of some countries are exempt from the requirement for a visa to enter the Schengen Area for a short stay or transit, for details please check 

here

. 
Difference between Schengen visa, national visa, airport transit visa
Schengen visa (short stay)
For citizens of some countries, a Schengen visa (Type C) issued by one of the member countries is required when staying in the Schengen Area for up to 90 days, for more information please click here. 
With a Schengen visa, you may enter one country and travel freely throughout the Schengen Area. Short stay visa allows the traveler, assuming all other conditions are met, to enter the territories of any Schengen country to pay a single continuous visit or multiple visits, the duration of which does not exceed 90 days in any 180 days period.
A short stay (Schengen) visa can be issued for either single entry or multiple entries into the Schengen zone.
Single entry visas allow the visa holder to enter and stay in the Schengen area continuously for the length of the visa duration, to a maximum of 90 days (e.g.: from July 1st to September 28th).
Multiple entry visas allow several entries and stays in the Schengen Area, of which the total duration cannot exceed 90 days in any 180 days period. The stay can be continuous or divided into several periods within the length of your visa's validity. A Schengen circulation visa is a special type of multi-entry visa that is generally valid from 1 to 5 years, decided by the Embassy or Consulate General.
National visa (long stay)
If you wish to stay longer than 90 days you will need a national long stay visa (Type D) or a residence permit.
Any stay longer than 90 days falls under national jurisdiction and is not part of the Schengen Agreement.
Airport transit visa
An airport transit visa is required depending upon the country of your citizenship and whether you have residence permits or visas of certain countries. The visa allows the travelers transiting the Schengen territory and who will not leave the transit area of the airport.
Airport transit visa does not apply to Moroccan citizens. However, if the transit involves a change of airport, a regular transit visa is required.
If you are of other nationalities and you are going to transit through a Danish airport, please check the following website if you need an airport transit visa. 
Justifying your return to Morocco
The Danish Diplomatic mission may ask you to justify the date you returned to Morocco by appearing personally at the Danish Embassy and producing the following papers:
your passport with the stamps "exit from Denmark" and "entry into Morocco"

the stub of your boarding pass, which must bear your name
Not appearing at the Danish Diplomatic mission or not producing the requested papers when requested to do so, will be taken into consideration by the mission if a new application is submitted by the same person or mentioning the same host.
Please follow this advice:
Make sure your passport is properly stamped by the border police as you leave Denmark (or by the border police of another Schengen country)

Make sure your passport is properly stamped when you return to Morocco

Keep the boarding pass of the return flight
Right to appeal
Danish Diplomatic missions occasionally reject visa applications. These decisions can be appealed to the Danish Immigration Service.
Embassies and Consulates can also choose to present an application to the Danish Immigration Service. Decisions on these applications will be made by the Danish Immigration Service and rejections can be appealed to the Immigration Appeals Board. Rejection of applications for visa to the Faroe Islands and Greenland decided by the Immigration Service can be appealed to the Ministry of Immigration and Integration.
Right of entry to the Schengen area for visa holders
Possession of a visa does not confer an automatic right of entry to the Schengen area. Holders of a visa are requested to present a proof that they fulfill the entry conditions at the external border, as mentioned in the Article 5 of the Visa Code.
Privileged treatment of family members of mobile EU citizens
A family member of an EU/EEA citizen or Swiss citizen has the right to have a visa application processed in accordance with EU regulations, if the family member is accompanying or joining the EU/EEA citizen or Swiss citizen, while the latter is exercising his/her right to free movement in Denmark. For information on the privileged treatment of family members of mobile EU citizens, please see Visa Code Art. 1 2 (a) or visit the following link.
Closing dates of TLScontact Centres 2018
| Date | Day | Holiday  |
| --- | --- | --- |
|  January 1st 2018 | Monday | New Year  |
|  11th January 2018 | Thursday | Manifesto of Independence |
|  1st may 2018 | Tuesday | Labor Day |
|  15th june 2018 (2 days) | Friday | Aïd Al Fitr |
|  30th july 2018 | Monday | Feast of the Throne |
|  14th august 2018 | Tuesday | Liberation of Oued Eddahab |
|  20th august 2018 | Monday | Revolution of the King and the people |
|  21th august 2018 | Tuesday | Youth Day (Birth of the King Mohamed VI) |
|  22th august 2018 (2 days) | Wednesday | Aïd Al Adha |
|  11th  september 2018 (1 day) | Tuesday | 1st Moharram |
|  6th  november 2018 | Tuesday | Anniversary of the Green March |
|  18th november 2018 | Sunday | Independence Day  |
|  21th november 2018 (2 days) | Wednesday | Aïd Al Mawlid |
How to book an appointment on TLScontact website?
You can find more detail information on how to take an appointment on TLScontact website here.
Where can I apply for a visa?
Applicants should apply for a Danish visa at the TLScontact visa center.
If you intend to visit only one Schengen country, you must apply at the Embassy or Consulate of this country.

If you intend to visit several Schengen countries, you must apply for a visa at the Embassy or Consulate of the country of your longest stay.

If you intend to visit several Schengen countries but do not have a main destination (the duration of the stay is very similar in all the different countries), you should apply for a visa at the Embassy or Consulate of the country that is your first point of entry.
The services provided by TLSconnect are optional. Applicants may submit their visa applications directly to the visa section. For more information please visit the website of the Embassy of Denmark. 
When should I apply for a visa?
You may only submit your visa application within 90 days before your date of departure. We recommend that you apply at least 20 working days before the date you intend to travel.
Can someone else apply for a visa on my behalf?
Personal appearance is mandatory for all visa applicants unless you are exempted from biometric data capturing.
If you are exempted from biometric data capture, a representative can apply on your behalf. The representative has to provide a signed authorization letter legalized by a notary translated to English or French from a sworn translator, as well as the original and copy of his/ her ID card. The representative cannot be a minor.
Biometric data capture
All applicants have to provide their biometric information when applying for a visa. This includes a digital finger scan of 10 fingerprints and a photograph. The finger scan procedure uses an electronic scanner. In order to ensure acceptable finger scans, please make sure that your fingertips are free from any form of decoration or cuts.
Only applicants who are within the following categories will be exempted:
Children strictly under the age of 12;

Applicants who are physically unable to submit their fingerprints for scan (hand/finger/arm amputated). However, if it is possible to scan at least one fingertip, then applicants have to go through the biometric step. In the case of a temporary inability to provide the fingerprints (plaster, bandage, etc.), the applicant still has to come in person and have the most possible fingerprints scanned. As only a part of the fingerprints have been collected, the applicant will have to come in person to allow the fingerprints scan again the next time when applying for a visa;

Applicants who are applying for a new Schengen visa and have already submitted their biometric data during a past successful Schengen visa application within the previous 59 months. However, the local consular authority may request you to submit the biometric data again if the fingerprints have not been registered successfully.
Biometric data already collected for a Schengen visa is valid for 59 months from the date the biometric data capture was done. Your fingerprint scans can be copied for your follow-up application from the central VIS database. The VIS is a common database to all Schengen countries. After expiry of 59 months, you have to provide fingerprint scans again. Further information on VIS is available on the website of the European Commission. 
For information on applicant's biometric data storage, please click here.
How can I collect my passport?
Passports can be collected from Monday to Friday, 08:30 to 16:30 at TLScontact. When your passport is ready to be collected, you will be notified online on your personal account page and by SMS, informing you to come to the TLScontact center with your visa application checklist and the original and a copy of your identity card. If you chose to have your passport returned to you by courrier express service, it will be sent directly to the address you have specified.
Can someone else pick up my passport for me?
Yes, a representative may retrieve your passport on your behalf provided that they bring:
Your application checklist

A copy of your ID card

The original and a copy of your representative's ID card

An authorization letter signed by you
Processing time
In accordance with Article 23 of the Visa Code, Directive 2004/38 Schengen visa applications shall be decided on within 15 calendar days of the date of the lodging of an application which is admissible in accordance with Article 19. That period may be extended up to a maximum of 30 calendar days in individual cases, notably when further scrutiny of the application is needed or in cases of representation where the authorities of the represented Member State are consulted. Exceptionally, when additional documentation is needed in specific cases, the period may be extended up to a maximum of 60 calendar days.
Citizens of certain countries or categories of certain citizens are subject to prior consultation in one or more Schengen countries before a visa may be issued. The processing time in these cases will usually be 10-12 days as a minimum.
Visa application form
In order to obtain the visa application form, please click here. Your application form needs to be completed in full and signed by the applicant.
Passport
Before applying for a visa you must make sure that your passport is valid.
Check the expiration date on your passport.

For a short stay visa (less than 90 days), the expiration date must be no earlier than 90 days after the date of your return from the Schengen area.

Make sure your passport has two or more completely blank and unmarked visa pages.

Make sure your passport has not been altered.

Check if the original laminated film (the transparent safety film that covers the passport photo) has been tampered with. If this is the case, you must ask a passport-issuing authority to re-tamper proof your passport.

Make sure no pages or surfaces have been laminated (as this will invalidate your passport).

Check for scratching or alteration.

If your passport was issued over 10 years ago, even if it is still valid at the time you submit your visa application, you must apply for a new passport from the authorities or the Embassy or Consulate of your country of origin, before being able to apply for a visa.
It is advised that you do not apply for a visa on a passport issued for multiple persons (e.g. parent and children together).
Photo
The two photographs required for any visa application must be:
Color photo on a white background.

Format 4 cm x 6 cm.

Taken from the front; without obstruction.

Recent (less than 6 months old).
The table below shows examples of non-compliant photos "✗," and the correct equivalent "✓", according to Schengen requirements.

Travel health insurance
Due to a regulation of the European Union (Decision 2004/17/CE of December 22nd 2003), there is a requirement to hold travel insurance, which is a compulsory document.
The travel insurance should be:
Valid for Schengen area if you apply for short stay visa

Valid for Denmark if it is required in the document list and you apply for long stay visa
Your travel insurance must be valid with a minimum cover of €30,000 in order to face any expenses that may arise in connection with your repatriation for medical reasons, urgent medical attention or emergency hospital treatment. The travel insurance should fully cover the period of your stay in the Schengen Area.
Residence permit
The residence permit for foreigners must be valid for at least 3 months from the date of return from the Schengen area.
Request for additional documents by the Danish Diplomatic mission
The Danish Embassy may request you to provide additional documents, according to your personal situation, even after you have submitted your application at TLScontact. Please note that any additional document, which is not required in the basic list according to your type of visa, should be also translated into English, French or Danish.